Pounding on the door invades my dreams. Screaming and pounding, pounding and screaming. When I finally wake up I look at the clock. It's a little past 3:00 in the morning. Becky is heading toward the door. Maddisen is yelling having been startled awake. Most of the people in our building know that Becky is a nurse. It happens about once every two years. A knock in the middle of the night. Someone needs first aide or wants to know if they should go to the ER. But this was different. There was more screaming but I heard that one word that sprang me to my feet. Fire.
As the adrenaline flushed my system I pulled on pants and headed toward Maddisen's room. On the way I discerned that the fire was on the other side of the fire wall from us but it was huge. I told Maddisen to get dressed and meet by the door. I put on a sweat shirt and shoes, put on my back pack, Maddisen screamed out if she could take her turtle. I looked out the window. Yes, but quickly. We left. The heat outside our door was intense. The light blinding. We made our way to the safety of the parking lot. Hugs exchanged with our neighbors that knocked on our door. Prayers said for our neighbors on the way to the hospital. We watched at least five local fire departments fight the fire. I used the bathroom of a stranger down the street.
Frantic calls to Maddisen's cell phone as neighbors and friends heard and saw the flames and sirens and news reports. I did not grab my cell phone. I tried to sleep in the car but what was so easy at 2:55 in the morning was impossible at 5:00 am. Another friend/neighbor tracked Becky down through work. Work called Becky and we called the friend. We had breakfast at the friend's house. I fell into a fitful sleep on their recliner.
We were able to return to our apartment at 10:30am and were happily surprised that the smoke smell is not very bad. It stinks in the hallway but not too bad in our apartment. Every once in while we get a whiff of some bad smells...as if there's a cloud of it some where that makes the rounds. We made sure we were completely closed in here and turned off our outside ventilation since it smells worse outside.
It feels so good to be alive.
Here's a link to the pics that I took.
http://s266.photobucket.com/albums/ii242/brakels/2008%20fire/
Here's two of the pics:
Our apartment is just to the right of the charred remains. Thank God for fire walls and local ordinances!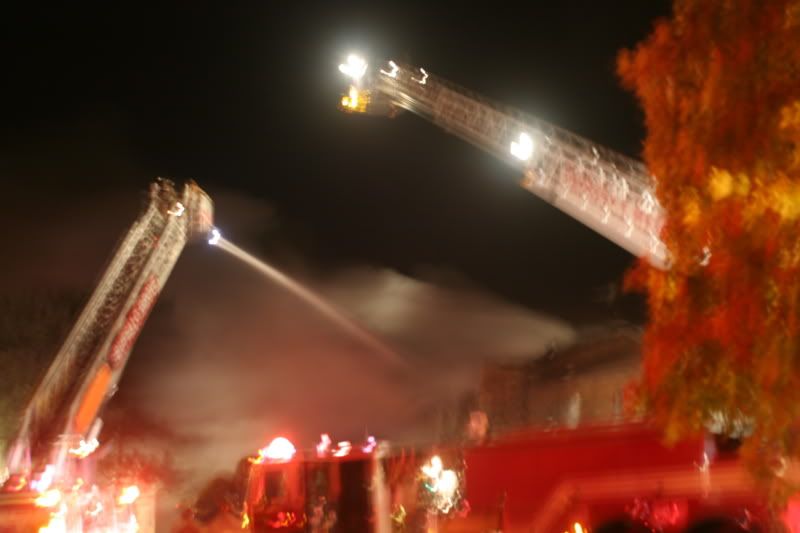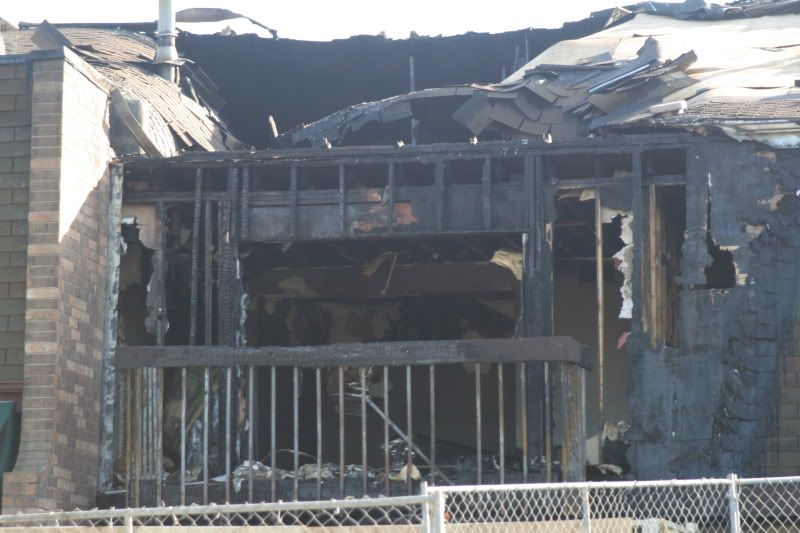 Aftermath: I wrote the above yesterday for posting at discontinuum.org. Since then I have learned that the guy who left in the abulance with no resp or pulse was revived and is in serious condition. Another victim has 3rd degree burns on 30% of his body and is in critical but stable condition. The fire has been ruled an accident but no cause has been released yet. Our apartment smelled like a campground but 24 hours with ionizing fans going and it is back to normal. The common hallway smells like a cigar club but that is not ours to fix. We didn't lose anything but when we left the apartment we thought it was for the last time. If you rent, get renters insurance. And for everyone, change your batteries in your smoke detectors when you change your clocks!